"Southside Superbowl" (Common & Kanye West)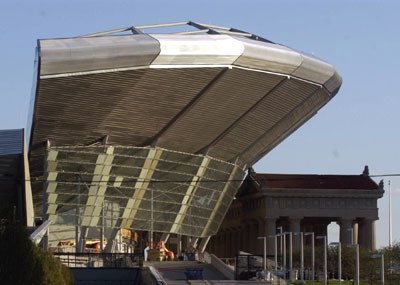 This is definitely the best song in preparation for a World Championship that isn't likely coming since Paul Wall's song about the Houston Astros pre-2005 World Series. Gotta love the big-ups to Oprah, Jennifer Hudson, and the 1985 Bears, as well as the lack of sheer embarrassment this song includes, unlike the ol' Shuffle. It's a nice 1:30 quickie with a hot Kanye beat that I kinda wish had ended up on Common's West-produced
Be
, a letdown after the hype and the enjoyable if not always successful freakiness of
Electric Circus
. Then again, the Shuffle is enduring, albeit not in the right ways.
By the way, if Kanye understands "how the soldiers feel" through war at Soldier Field, give the man a gun. Having viewed the above atrocity of a renovation just yards from Ma and Dad's home in the Chi, however, I will admit that it is an Iwo Jima to the eyes.
Click here for "Southside Superbowl."
Look below if you somehow have never Shuffled.
(My prior prediction still stands, by the way, and I am tempted to root for the Colts just so I can stop hearing about Peyton Manning for awhile. But I love an underdog, and can't imagine what it'd be like to see
Sexy Rexy
have a 20-25, 300 yards, 3 TD game. So yeah, let's shuffle/hustle Bears. And go Rex Grossman, you glorious non-Jew. F* it, let's throw downfield.)